SEA SPRITE AT HAYSTACK ROCK
Sandcastle Studio 1A
This cozy studio unit is located on the ground floor of our Sea Sprite at Haystack Rock Hotel. Drift to sleep with the sound of waves crashing on the shore.
This partial ocean view room has a full kitchen and a large south facing bay window. Sit with a glass of wine and enjoy the solitude. This unit also features a private patio where you can enjoy our beautifully landscaped grounds.
Perfect for an individual or a couple, the Sand Castle Studio features a queen-size bed. Sleeps 2 people.
Availability
Photo Gallery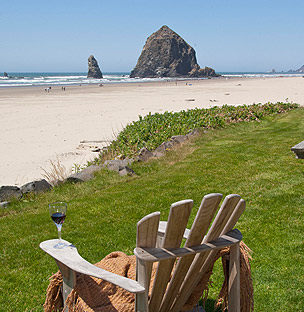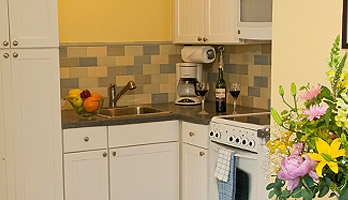 Amenities
This room has a south facing partial ocean view. Our quiet location south of Haystack Rock provides a peaceful retreat for those looking for a place to replenish and renew.
Oceanfront lawn with barbecue and picnic tables
FREE high speed wireless internet access
Fully equipped kitchens
Guest Laundry Facilities
Cable Television
DVDs and VCRs with large video library
Entire property is pet free and rooms are non-smoking
Lovely gardens and resident bunny family
Special occasion gift baskets
Sea Sprite at Haystack Rock
This cozy studio unit is located on the ground floor of our Sea Sprite at Haystack Rock Hotel. Drift to sleep with the sound of waves crashing on the shore.

This partial ocean view room has a full kitchen and a large south facing bay window. Sit with a glass of wine and enjoy the solitude. This unit also features a private patio where you can enjoy our beautifully landscaped grounds.

Perfect for an individual or a couple, the Sand Castle Studio features a queen-size bed. Sleeps 2 people.




Amenities

This room has a south facing partial ocean view. Our quiet location south of Haystack Rock provides a peaceful retreat for those looking for a place to replenish and renew.

Oceanfront lawn with barbecue and picnic tables
FREE high speed wireless internet access
Fully equipped kitchens
Guest Laundry Facilities
Cable Television
DVDs and VCRs with large video library
Entire property is pet free and rooms are non-smoking
Lovely gardens and resident bunny family
Special occasion gift baskets